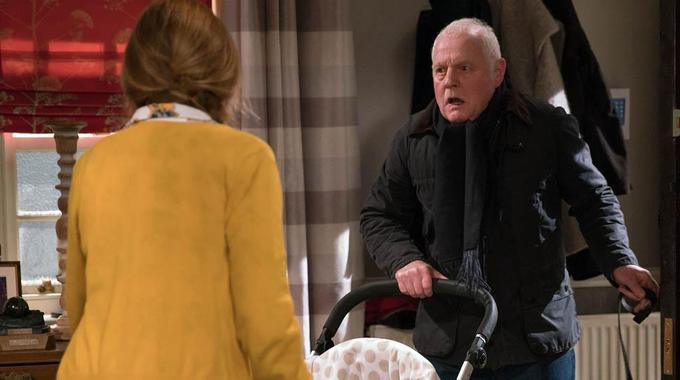 Latest
Gabby struggles with Ashley. Chas is left fuming. Cain grows suspicious.
Episodes
Previews
Exclusive Interviews
Soapy Extras
Family Trees
Gabby struggles with Ashley. Chas is left fuming. Cain grows suspicious.

Aaron's problems go from bad to worse. Paddy and Chas go on a date. Nicola helps her friends.

Aaron's jealousy spirals. Paddy feels cursed. Kerry makes a stand.

Finn's secret is revealed. Nicola drops a bombshell. Marlon plays matchmaker.

Nicola is determined to discover the truth. Finn has a plan. Aaron grows jealous.

Nicola grows suspicious. Finn is left reeling. Chas gets the wrong end of the stick.

Pierce tries to control his anger. Chrissie feels let down. Jimmy worries about Nicola.

Will Lawrence reveal the truth? Finn tests Kasim. Rhona is left feeling confused.

Lachlan's trial begins. Nicola is determined to take back control. David is unimpressed.

Cain manipulates Chrissie. Lisa has doubts. Charity plays hardball.
Cain makes a decision. Charity feels sorry for herself. Frank smells a rat.

Kerry is left heartbroken. Cain fights for Moira. Megan opens up to Jai.

There are desperate times for Kerry. Aaron confronts Rebecca. Rhona feels guilty.

Pierce has a surprise for Rhona. Will Kerry confess? Aaron feels sidelined.

Lisa is desperate to save Zak. Paddy looks forward to his date. Tracy worries about Finn.

Finn makes a grand gesture. Joanie makes a bad decision. Rebecca takes her revenge.

Joanie defends her friend. Emma intervenes. Chrissie is left seething.

Nicola and Jimmy are forced to reconcile. Kerry flashes the cash. Cain's patience wears thin.

Will Lisa talk Joanie round? Jimmy learns the truth. Chrissie interferes.

Joanie makes a decision. Chrissie grows suspicious. Jimmy is mystified.

Joanie has a realisation. It is bittersweet for Laurel. Cain wonders if there is still hope with Moira.
Love this? You might like...